November 9, 2023 :
The recruitment campaign for the 2023/2025 Master WAVES cohort is now open and will be open until January 22 2024.
For further information on the procedure, please visit the dedicated page and the FAQ.

You can then apply on our platform https://application.master-waves.eu/.

ERASMUS MUNDUS MASTER WAVES
The program WAVES (Waves, Acoustics, Vibrations, Engineering and Sound) is a two-year international Master course fully taught in English, awarding multiple national Master degrees and a Joint Diploma Supplement with the support of the Erasmus Mundus Program of the European Union.
It aims to provide the students with a wide spectrum of scientific knowledge and skills in Acoustical Engineering, from advanced modeling of wave phenomena to the sustainable development of silent transport systems in urban areas. The graduates will gain an international expertise to tackle the growing challenges that will face tomorrow's acoustical engineers in industrial and academic contexts. They will contribute to reduce the environmental impact of noise, to enhance the performance of audio and sound equipment systems or to improve structural health monitoring devices. These domains are a source of highly-skilled jobs in a large number of industrial sectors such as transports (aeronautics, automotive and rail), buildings and infrastructures, energy (structural monitoring of nuclear powerplants, windfarms…), audio systems and musical instruments, oceanography and geophysics.
WHY CHOOSE WAVES MASTER?
The program WAVES is the first Master degree in Acoustics to be awarded the Erasmus Mundus Joint Master Degrees by the European Union's Erasmus+ program. As such, it aims to attract international students combining high motivation, above-average academic ability, task commitment and creativity in order to benefit from one of the highest quality training in Acoustics and develop the skills needed to successfully integrate industrial groups or scientific research laboratories.
For such a purpose, the program has been designed to propose a tailored blend between classical lecture courses, practical work sessions and more innovative approaches such as flipped classrooms, problem-driven classes and group projects. The students will benefit from the participation from visiting scholars and guest lecturers in addition to the teachers and researchers of the Full Partners.
Finally, associated laboratories and industrial partners will provide a broad offering for internship and job opportunities and, together with the alumni, a large network of contacts at the international scale.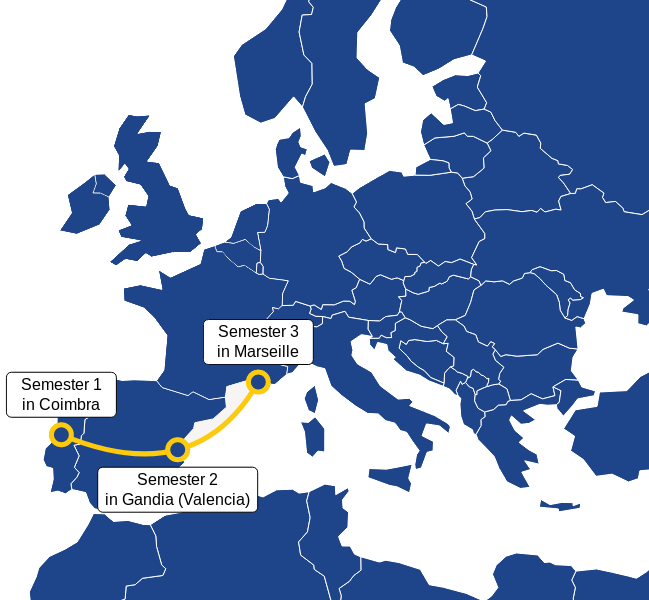 MOBILITY SCHEME
The Erasmus Mundus WAVES program is an integrated master with a mobility scheme designed to take advantage of the complementary expertise and facilities of four internationally-recognized Higher Education Institutions from EU:
Semester 1 hosted by the University of Coimbra (Portugal):
oriented towards engineering applications, along with the teaching of fundamentals and methods of acoustics that allows to tackle problems arising in practical common situations;
emphasis will be put during this semester on structural dynamics and building acoustics.
Semester 2 hosted by the Polytechnic University of Valencia, campus of Gandia (60km south of Valencia, Spain):
strengthening of fundamental knowledge and introduction to a wider range of numerical and experimental methods;
the variety of acoustic fields will also be addressed: psycho-acoustics, electro-acoustics, room acoustics, ultrasounds, musical acoustics and underwater acoustics.
Semester 3 jointly hosted by Aix-Marseille University and the Ecole Centrale Marseille (France):
devoted to specialization in tomorrow's acoustical engineering: environmental engineering acoustics, complex media, nonlinear systems, etc...
Semester 4: worldwide!
20 Associated Partners and 21 Industrial Partners all over the world offering internship opportunities to prepare the Master Thesis.